Your shopping cart is empty!
Cummins Insite V7.62.240 diagnostic software + CUMMINS INCAL DVD Special modified 2017.10 version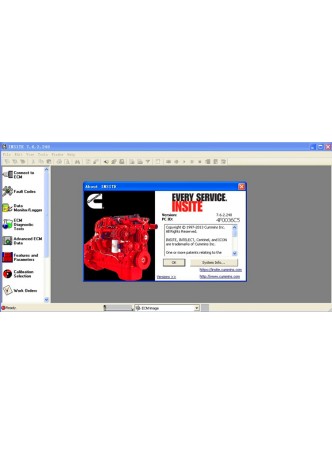 Cummins Insite V7.62.240 diagnostic software + CUMMINS INCAL DVD Special modified 2017.10 version
Brand:
Cummins
Product Code:
CUMMINS INSITE
Availability:
In Stock
Cummins Insite V7.62.240 SP5 diagnostic software + CUMMINS INCAL DVD Special modified 2017.10 version
Cummins INCAL - ECM Calibrations
[10.2017]
Region: All regions
Type: Service Information
Languages: English, Spanish, Italian, Mexican, German, Russian, Turkish, French, Swedish etc.
OS: WinXP, Vista, Windows7
System requirements: Cummins Insite
3 DVD DL
Year: 2017
Date of update: 04/2017
The Incal is a set of 2 DVDs which contain the latest revision of the ECM calibrations. They are released and sent out monthly to IncalSubscribers. Please contact your Cummins distributor for more information.
Incal cd's are Cummins ecm calibration files cd's, comes in a set of four CD. One customer wants it and upgrade the horse power with the same engine in the cpl or range, or with thru Insite Insite pro calibration software and password he is able to Calibrate an ecm That has an existent or previous calibration in it. Let say I have a Cummins engine N14 cpl 1574 370 horse power thru Insite pro with calibration files (in inch CD's) and superseded or find for cpl 1574 The Higher horse power available in the in-inch CD's and reprogram ecm with it, using these calibration password and the proper count Cummins Inline Adapter 5. They May Be Cd for ism or isx, cd, 3 May Be for N14 or M11, and so on.
Cummins INSITE 7.62 software supplies engine information quickly, getting the inside details you need. No matter what kind of equipment you run, INSITE is the one support product to have in your virtual tool box to fit every for Cummins electronic engine.
Function:
1.Trip and vehicle information
2.Parameter and feature adjustment
3.Accurate problem diagnosis
4.Complete wiring diagram sand sensor location maps
5.Step-by-step trouble-shooting information
6.Fault tree information
7.Fault code and symptom-based diagnostics
8.Engine diagnostic tests
9.Tools to create templates for a group of vehicles
10.Fleet management/driver reward programs
11.Audit trail information
12.Enhanced ECM security
For Cummins INSITE 6 is offered in four functional levels: Basic, LITE, RSGR and Pro, ranging from a read only access level to full-function access and capability for the service professional. TOP Authority for FREE
Specification:

1.Supports SAE J1708/J1587 and J1939/CAN data links
2.Supports USB full speed port at up to 2M baud rate
3.Supports RS-232 PC/PDA serial port at up to 115.2k baud rate
4.Is fully compliant with TMC's RP1210 standard
5.Small enough to fit in pocket
6.Aluminum housing provides ruggedness
7.Derives 8 V to 50 V DC power from vehicle
8.Includes advanced processor for maximum speed and performance
9.Internal Flash memory allows firmware upgradeability
10.Includes 5 LED to indicate power and USB, RS-232, J1708/J1587, and J1939/CAN communications
11.Rated for -40° to +85° C operating temperature
12.INLINE 5 meets for Cummins in-cab environmental test requirements
Contact Information:

Whatsapp: +8617820674580
email :autotruckepc@gmail.com
skype : autotruckepc
If you have any problem, please do not hesitate to contact us.

Shipment Note:

If your package shipped by Express Delivery, please give us a valid delivery phone number, and also a full and accurate shipping address.
Write a review
Note:

HTML is not translated!

Powered By Autotruckepc © 2022.